Product Review of the new Docter Optics QUICKsight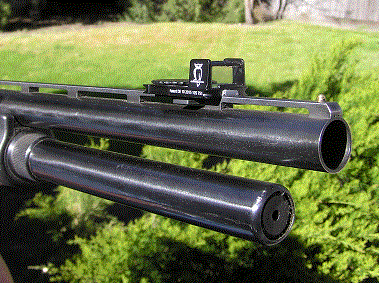 by Bazil Slaughter
The first thing you notice about the new
Docter Optics QUICKsight
is the low profile design,along with the narrow sight window, made for use on shotguns with ventilated rib's. The sight has no magnification, instead providing a laser Red Dot bead to replace a brass bead at the muzzle end of the barrel. Using the provided mount, the sight attaches easily to the rib towards the front of the barrel when you following the instructions provided in the manual. When shouldering your shotgun with the
QUICKsight
you will find that it is essential to keep your cheek against the comb and in line with the top of the rib to access the red dot and what any shooting instructor will tell you is the correct form for shooting. The low profile design gives you excellent field of vision around the sight for accessing your targets. At the range, shooting sporting clays I have found that calculating your lead on crossing targets can be made precisely with this device. I believe this optic will be a useful tool when used in many shotgun applications. Honestly, I feel that most older shooters are set in their ways and continue to prefer a brass bead on the barrel, where younger shooters are more likely to embrace this new product.
For more information, contact me directly at 702-610-0334, Bazil Slaughter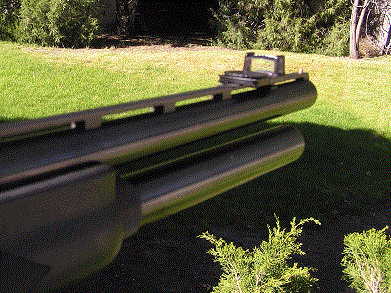 by Joe Winniki
Credentials: Certified Law Enforcement Handgun/shotgun Instructor, former U.S. Marine Corps sniper/scout/rifle team. National Sporting Clays Certified Instructor, Master Class Shooter, American Trapshooting Association Instructor, AA class shooter. National Rifle Association Certified Instructor/ Range Master/Concealed Carry Instructor.
A couple of observations:
Need some protection for the rib - rubber coated etc.
For 3 gun shooters, may help those with eye dominance issues.
Mounting forward on the barrel seemed to work best, a shooter might find a rear mounted sight somewhat of an obstruction, especially when shooting flying targets.
The traditional clay target shooters (trap, skeet, sporting clays) might find the transition to a Red Dot Sight of this type a little difficult to get used to, although a shooter with eye dominance or other eye problems might find this device helpful.
As a professional instructor, I found that this device could serve as a training aid, in particular in teaching the student the importance of keeping one's head on the stock. Without a proper cheek mount this sight won't work. This might be a little difficult to obtain without a way to adjust the butt stock. It is difficult to hold one's head and the line of sight consistent without a solid and consistent cheek weld.
When shooting stationary targets, such a steel or grounded clay targets this sight might work well helping the novice or less experienced shooter. There was a distinct advantage when shooting rifled slugs.
When testing machine thrown targets on the trap field, using the DOCTER QUICKsight, it was compatible with this type of shooting. The sight worked best when the targets were going away and started at some distance from the shooter. Close in targets were difficult to find in the hooded glass area of the sight. Shooters shooting trap targets had very good success, provided they didn't use the dot as an aiming point but just as peripheral reference, similar to a standard front bead/muzzle relationship to the target. The lighted red dot gave the shooter a much more distinctive reference. This was helpful and made shooting the target fun.